Kastiļaylêónfe Adioròdai

Comunidad de Castilla y León




Ocadina

Tyeŋsfga

Asê

9'4223 tm2 (pí Ni at naine)

Otaniŗ

255'3301 otafu (pí Se at naine)

Otaniŗfe kinu

26.65 otauf/tm2

Adioròfe odi

1983 osao Lìca 2 o

ISO 3166-2

CL

Tyeggsfofe dioxal
Kastiļaylêóndai (Domiga: Castilla y León) ta Dominaife adioròdai, rimisi Oio-Nio at Dominaife naiasne, adioròdaife ocadina ta Baļadoliŧdina, otaniŗ ta 251'0849 otauf (2005 osao).
Kastiļaylêóndai tap Lêónfe Wonai cu Obŗukastiļadai, rimdi ta adioròdai at fie nica oxfe asê rima Dominai, bes ta nica oxfe adioròdai at Êurocune.
Kastiļaylêóndai fie No tŗigajiuf: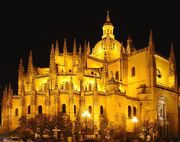 Rima tŗi, Ábilatai, Buŗgostai, Palêntai, Sêgotai, Sotai, cu Baļadolidtai tap aisi at Kastiļafe Wonaine, Lêóntai, Salamankatai cu Ŧamoratai tap asia at Lêónfe Wonaine.
Ad blocker interference detected!
Wikia is a free-to-use site that makes money from advertising. We have a modified experience for viewers using ad blockers

Wikia is not accessible if you've made further modifications. Remove the custom ad blocker rule(s) and the page will load as expected.