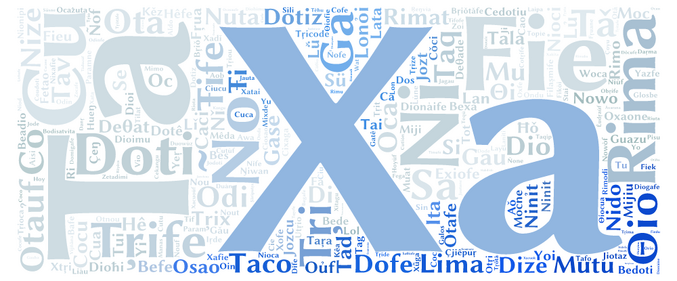 Xǚga, ta Ni coŗ otatuga at Lǐwảz Otoni tuhap nido Obŗos Ni osaone (Ditŗe Di osao), ŧife gacoc cu garodiỏi fie infu at Dioga cu Domigane, tatŗi coju tŗife taicỏc at Di gaủfne. Rimodi Xǚga fie Setŗe Cuade Seze Cua detaủf.
敘加語,又譯作許語,是利瓦茲·奧托尼從二零零二年開始構建的一種人造語,其語音、語法皆受到了漢語和西班牙語的影響,幾乎包含了兩種語言的所有發音。初期字母來源于旋轉九十度的拉丁字母,後又擴展至三十八字母。現在敘加語有六千四百六十四個單詞。
Zetadimiủf(詞典)
Cotaikfe Nodoti(基本知識)
Ocayi (歷史) | Pi cu êhu(旗徽) | Zetaủf cu taicỏc(字母和發音) | Cugaủf (詞綴) | Çaθiofe tŗetaủf(常用語)
Bizê at exiogafe tatamijine(外語轉寫標準) | Garodioi(語法) | Tatagafe  oyủf(翻譯文獻) | Deuta(盲文) | Θioga(手語)
Tŗiaife cuadim at Xǜgane(敘加語速成)
Pỉ Ni Oe(第一章)| Pỉ Di Oe(第二章) | Pỉ Tŗi Oe(第三章) | Pỉ Cua Oe(第四章) | Pỉ Θi Oe (第五章)
Xǚgǎs(敘加斯)
Timufe Otaủf(主要人員)

 Dotituita(創始人): Lǐwảz Otoni 

Xitagotaủf(貢獻人): Dinảz Utŗi 

, Zaz Gasu 

, Ŋoyảz Utŗu, Mijilyoŋzim cu Isim
Exiofe Goc(外部鏈接)
Xǚgafe Yảz at Bǎidủne(百度敘加語吧) | Xǚgafe Facebǒk(臉譜敘加語專頁) | Afosgafe Wiki (亞弗西斯語維基)
————————————————————————————
————————————————————————————
Tala dontusfe zeta at Xǚgane ŗeŋvía cuai pŗix at dioxfe glinỏune, lata rima zhoy ta mijiu θio Latỉngafe zeta.
因為敘加語傳統字母仍然存在網絡顯示問題,因此本網頁將以拉丁字母編寫。 
Ad blocker interference detected!
Wikia is a free-to-use site that makes money from advertising. We have a modified experience for viewers using ad blockers

Wikia is not accessible if you've made further modifications. Remove the custom ad blocker rule(s) and the page will load as expected.