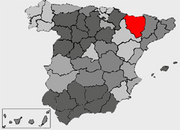 Uêskatai
(
Aragónga
: Uesca,
Domiga
: Huesca) ta Ni tŗigaji at
Dominaife
Nione, rimisit Nio at
Aragónfe Adioròdaine
. Tŗidosfe doho fie
Llêitái
,
Ŧaragoŧatái
,
Nabaradái
cu
Fŗanai
.
Aisife asê at Uêskatáine ta 1'5626 tm2, otaniŗ ta 22'8566 otauf (2010 osao), yude fie Cuafe Ni at otaniŗne otatat rima ocadina - Uêskadina. Tŗude fie 202 adiorófe dinauf.
Rima asku at Pirinêosdamfe aomugêlane Uêskatái ta cocofe aisi at ga Aragóngane, rima tŗidosfe Deo bes fie niufofe aisi at ga Katalugane. Rima ròàisi fie nioca ocaife uaf - Anetoaf.
Ad blocker interference detected!
Wikia is a free-to-use site that makes money from advertising. We have a modified experience for viewers using ad blockers

Wikia is not accessible if you've made further modifications. Remove the custom ad blocker rule(s) and the page will load as expected.